Pearl Abrasive Depressed Center Premium Aluminum Oxide - Pipeline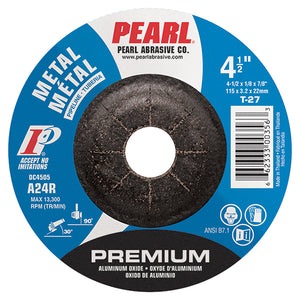 Pearl Abrasive Depressed Center Premium Aluminum Oxide - Pipeline
Regular price
Sale price
$34.00
Pearl's depressed center grinding wheels are especially well suited for grinding, weld dressing and deburring. Pearl depressed center wheels are engineered for aggressive stock removal and extra long life. All wheels are fully reinforced and meet or exceed US/Canada safety standards and specifications.
General Purpose for Pipeline
For light grinding, cutting
Aluminum oxide
Premium Line
For ferrous metals, iron and steel.
30_ angle.
T-27
A24R / A24S grit
Pearl's Fine-Grit Back Layer Improves Grinding Action!
Our Fine, Hard Back Depressed Center Grinding Wheels feature a finer-grit mixture in the top half of the grinding wheel that limits premature shedding or "spalling" and allows for a smoother grinding action from start to finish.
Designed for maximum productivity
Longer wheel life
Engineered to produce sharp beveled edges
Extra durable with minimal stress
A coarse grit bottom added for efficiency and safety
WARNING: Cancer  For more information, go to www.P65Warnings.ca.gov
WARNING:

 
THIS PRODUCT CAN EXPOSE YOU TO FORMALDEHYDE, WHICH IS KNOWN TO THE STATE OF CALIFORNIA TO CAUSE CANCER.  For more information, go to
www.P65Warnings.ca.gov
Similar products
Customers who viewed this item also viewed