Pearl Abrasive Flexible Grinding Wheels SRT™ Flextron 5 x 1/8 x 7/8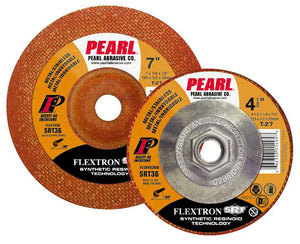 Pearl Abrasive Flexible Grinding Wheels SRT™ Flextron 5 x 1/8 x 7/8
Regular price
Sale price
$35.00
A Pearl Exclusive!
GRINDING, SHAPING, FINISHING OR SANDING... ONE WHEEL DOES IT ALL!
Pearl Abrasive flexible grinding wheels combine the benefits of depressed center grinding wheels, resin fiber discs (sanding discs) and flap discs into one revolutionary product.
Flexible wheels are extremely versatile
Pearl flexible grinding wheels combine the benefits of traditional fiber discs, grinding wheels and flap discs to produce a product that is truly versatile and capable of meeting all your grinding, shaping, finishing or sanding needs.
Increase grinding surface area
Because of their flexibility, there is more wheel surface on the material being ground, making for faster grinding efficiency.
Superior surface finish
When a smooth finish is important and contours and corners have to be blended, flexible wheels get the job done.
Less vibration
A flexible grinding wheel absorbs vibration resulting in less fatigue and downtime.
Exclusive non-woven reinforcement
Pearl Abrasive flexible wheels are double-reinforced with a top layer of non-woven fabric and an internal layer of reinforcing cloth. This adds the element of safety and stability to the wheel.
For ferrous metals; iron, steel, and other high tensile alloys.
Flexible construction.
SRT™ (Synthetic Resinoid Technology).
Contaminant free (Fe + S + Cl <0.1%).
30_¡ angle.
T-27.
WARNING:

 
THIS PRODUCT CAN EXPOSE YOU TO FORMALDEHYDE, WHICH IS KNOWN TO THE STATE OF CALIFORNIA TO CAUSE CANCER.  For more information, go to
www.P65Warnings.ca.gov
Similar products
Customers who viewed this item also viewed