Pearl Slimcut Cut Off Wheel 4-1/2 x .045 x 7/8" TYPE 27 PRO-V 25/pk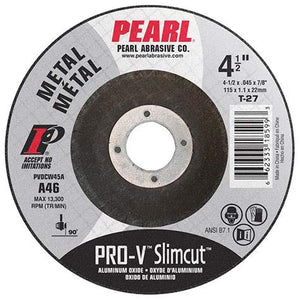 Pearl Slimcut Cut Off Wheel 4-1/2 x .045 x 7/8" TYPE 27 PRO-V 25/pk
Regular price
Sale price
$20.50
SlimCut™ Pro-V abrasive thin cut-off wheels.  The Ultimate Blend of Performance and Price!
Type 27 (42) are thin cut-off wheels from Pearl. Pearl Abrasive has an expanded line of thin cut-off wheels that meet a variety of performance standards and price demands.
Aluminum Oxide.
Slimcut40™ Pro-V™.
Ferrous metals, iron, steel, non-ferrous, sheet metals, copper and stainless steel.
A46 grit
In stackable plastic containers. 25 wheels per container. Protects wheels from damage and moisture.  Easy to carry and store.
Similar products
Customers who viewed this item also viewed