TRUSTED AND PROFESSIONAL, DEAL WITH CIVIL SUPPLY CORP.
Established in 2016, Civil Supply Corp. is a trusted construction tools and equipment supplier located in Westbury, NY that specializes in buying and selling construction tools and equipment online for all trades. Civil Supply Corp. offers a wide variety of tools and equipment for sale including Abrasives, Consumables, Maintenance & Janitorial Supplies, Masonry Bits, PPE & Safety Equipment and many more items! We are guaranteed to offer affordable prices on all equipment and tools with free shipping nationwide. Civil Supply Corp. is dedicated to helping you find the perfect tool and materials for your project.
Civil Supply Corp offers a wide range of services in addition to buying and selling tools & equipment online. Civil Supply is a professional construction supply company that can help you decide which tool or material is right for your project, rent out lifts and other machinery to you, and repair construction, industrial, & commercial tools & equipment for all trades. Civil Supply Corp. has received nothing but positive reviews on thousands of transactions on Amazon and holds a 5-star rating on Google. Therefore, Civil Supply Corp. should be your first choice when you are looking to fulfill your construction supply needs. Civil Supply Corp. holds itself to the highest level of professionalism in the civil construction industry and is looking forward to serving you.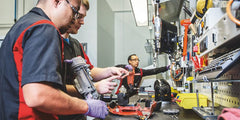 We Repair Construction, Industrial, & Commercial Tools & Equipment For All Trades
At Civil Supply Corp, we take pride in our top of the line service offered for tool and equipment repair in the New York, Tri-state area. No matter the trade, no matter the size of the tool or equipment, we know that we can provide an efficient, effective, and reasonably priced service. We offer free pick ups on all handheld equipment and the 1st hour of labor is always on us! Our warehouse repair center is conveniently located at 70 Urban Avenue, Westbury, NY 11590.
Civil Supply Corp. has expert technicians for several of your tool repair needs such as DeWalt, Porter Cable, Milwaukee, Hitachi, Makita, Bosch, Metabo, Delta, Powermatic, and Jet power. With thousands of parts in stock, you can be assured that Civil Supply Corp. can get the job done. Civil Supply Corp. also has technicians available for machine maintenance at your location
Please give us a call at 516-379-2861, or email at sales@civilent.com to schedule a drop-off, request a quote, or to simply get more information!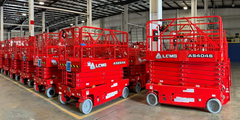 Scissor Lift Rentals Available Now!
Civil Supply Corp. offers a wide variety of scissor lift rentals. We have electric and gas-powered rough terrain, and hybrid scissor lift models available for rent. We also carry 30" narrow platform scissor lifts for rent that are great for easy maneuverability in tight spaces such as doorways, and tight aisles.
Scissor lifts, also known as aerial work platforms, are the best choice when looking for equipment that offers workers substantial space to work, an ability to lift heavy loads, and an ability to maneuver over various terrains. Typically, scissor lifts can be used for various projects such as painting, high-ceiling maintenance, installations, stocking warehouses, construction projects, and any other type of work that involves heights greater than what a normal ladder could reach.
We are now offering specials with LGMG. LGMG North America is an aerial lift company that delivers quality equipment at the best prices to rental companies big and small. Their equipment is already ANSI 92.20 approved and ready to be put into action on jobsites across North America!
Civil Supply Corp. prides itself in offering top of the line LGMG aerial lifts for the NY, Tri-state area. We have electric and hydraulic motor LGMG lifts available for rent in 3 different sizes! Aerial lifts are available for pickup from our 70 Urban Ave, Westbury, NY 11590 warehouse location.
Contact us at 516-379-2861 or sales@civilent.com for more information about the variations, quantity available, and other general information!
On November 3rd, 1982 Remcon Plastics was incorporated and their innovative rotomolding operations began in Conshohocken, PA. Today, Remcon Plastics...
The Bosch Group is a leading global supplier of technology and services. The Bosch Group comprises Robert Bosch GmbH and...
Aervoe carries a wide variety of products and equipment. Paints and coatings, galvanized & steel coatings, marking products, striping paint...